Sunday morning
armed villagers - about 100 of them
- showed up outside the PG police station demanding that police go and search an American couple's home in the Water Hole Area. Police didn't accede to the demands and shortly after ACES the American Crocodile sanctuary and all the buildings and cars where on Fire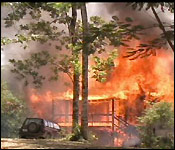 Vince Rose, Owner of house
"My whole life that I built as a little boy is gone. I didn't just move here with a couple of bags, my whole life that I had was there and I know material things but they have meaning to me and my wife besides all the hard work we did. So Punta Gorda lost out because that sanctuary is gone; so is the education; so is any help. This is going to go on every news station I can ever get to internationally. I guess I have to go back like when I was 18 years and go find a job and a place to live and go buy some underwear and maybe some shampoo and start all over because I got nothing."
"I am still at a shock and all I've done since I've heard of this is me and my wife crying. It's just unacceptable that a pre-meditated group of savages - and they are not human beings, they are savages - they should not even be out on the streets; they should all be in prison because they are not human beings. It was pre-meditated and they are savages and I am going back to see if any of the animals are alive or dead. That's unacceptable.
Belizeans should be ashamed of themselves
to allow people to live in their country that are savages."
Full Story at
7NewsBelize
To help ACES, donations can be made:
International wiring account number for donations
Belize Bank # 630-1-1-10130
Account# Vince & Cherie Rose Fire Victim Account